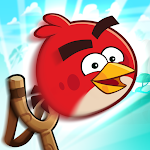 Angry Birds Friends (Mod)
Angry Birds Friends – a multiplayer arcade game from Rovio studio with classic rules for the series, interesting competitive mechanics and an international leaderboard that records recent results and selects opponents according to the rating scored. The gameplay is meditative: in 99% of cases, you will have to pull the rubber band on the slingshot, slowly choose a target to attack, and then score points for damage inflicted on the possessions of evergreen piglets. 
The goals in Angry Birds Friends do not change even a hundred hours later. But the modes will be added: there will be a chance to try your luck in tournaments and turn into a champion on all fronts at once!
Download Angry Birds Friends (Mod) free for android
Mod info:
- Unlimited Boosters